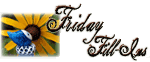 I can't believe

I didn't get fooled today! (Not yet, the day isn't over!)

Happy 1st April

for everyone.
How can I

cheer myself doing housework joyfully?

'Schinkennudeln' (noodles with onions, egg, cream and ham)

was the last thing I cooked.
Six of one ...

No! Her name was Seven of Nine!

Do you remember that scene in 'Singing in the rain' after the song 'Good Morning'? Yesyesyes

; nonono!
And as for the weekend, tonight I'm looking forward to

the rest of my 'Schinkennudeln'

, tomorrow my plans include

ah, well, no concrete plans at the moment

and Sunday, I want to

prepare and maybe even write some of my articles for the April ABC Challenge!
Not my best! As excuse, my whole mind is busy with the April ABC Challenge!