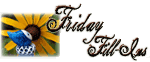 Pardon me,

it's now my turn on this week's FFI!

If you continue reading, it'll be a

good deal.
I was surprised to find that I really like

to quiz over missing gaps.

Reading

is one of my favorite forms of entertainment.
Hi, my name is

Karin

and I'm

a blogger and Friday-Fill-In-er.

These days feel like

summer afternoons.
And as for the weekend, tonight I'm looking forward to

a nice long, free Easter weekend

, tomorrow my plans include

hopefully a sunbath

and Sunday, I want to

eat out in a nice restaurant!
HAPPY EASTER! :-)