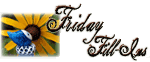 Ooooh, I

love these sunny days, give you at least a little taste of the upcoming summer.

Hypocrisy

, I can't stand it!
How the heck did I end up with so many

words in my current writing project and I'm not even finished yet! Who had expected that?

India

is one of my favorite places to visit.
I'm not a

hypocrite

, I'm not!

It's a burger recipe by Rachel Ray I want to try that weekend,

it has to be good.
And as for the weekend, tonight I'm looking forward to

accompany some Jedi knights in 'Star Wars, Episode 1' on TV

, tomorrow my plans include

maybe, if the weather is nice, to wash and clean my car

and Sunday, I want to finish the last pages for our 'February Journaling Challenge'!