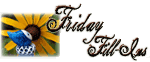 Right now I need

some sun would be nice

.

A nice Indian chai

is what's in my glass.
A copy of this letter

(if it's a digital one) will land in my archive

.

Yummy Nutella

is best with a spoon.
The best movie I've seen lately is

'Inception'

.

We normally can choose what we

like;

but we're totally helpless with the one we

love.
And as for the weekend, tonight I'm looking forward to

the end of the day (it's still early afternoon)

, tomorrow my plans include

making the visual prompts for our 'February Journaling Challenge'

and Sunday, I want to

ah, well ... no concrete plans yet

!